MORE FUN, LESS WASTE
As Malaysia's largest 5k running event, we feel it is our responsibility to lead the industry in event sustainability practices. CIMB shares our vision, and together we aim to create a more sustainable future whilst inspiring young Malaysians to #LIVETHEBEAT and lead more active lifestyles.
Outlined below are some of the initiatives we've put in place to minimise the impact we have on our environment. We can't do it alone and need your help, so please take a moment to see how you can play your part.
MALAYSIA'S FIRST CARBON NEUTRAL MASS PARTICIPATION EVENT
With the help of YTL Group Sustainability, we independently track all the Greenhouse Gas (GHG) emissions produced at The Music Run by CIMB. In 2019, CIMB offset the event's emissions through an investment in a water filtration project in Indonesia that uses ceramic filters to produce safe drinking water, thus eradicating the traditional requirement to boil water prior to drinking it. This is a Gold Standard project which contributes to Sustainable Development Goal number 13 (Climate Action) in addition to benefiting local communities by contributing to at least two additional SDGs. Together with CIMB, we're leading the industry and reducing the event's carbon footprint.  
Want to do your part at the next event? Catch the LRT to Run Pack Collection and the Event or carpool with friends.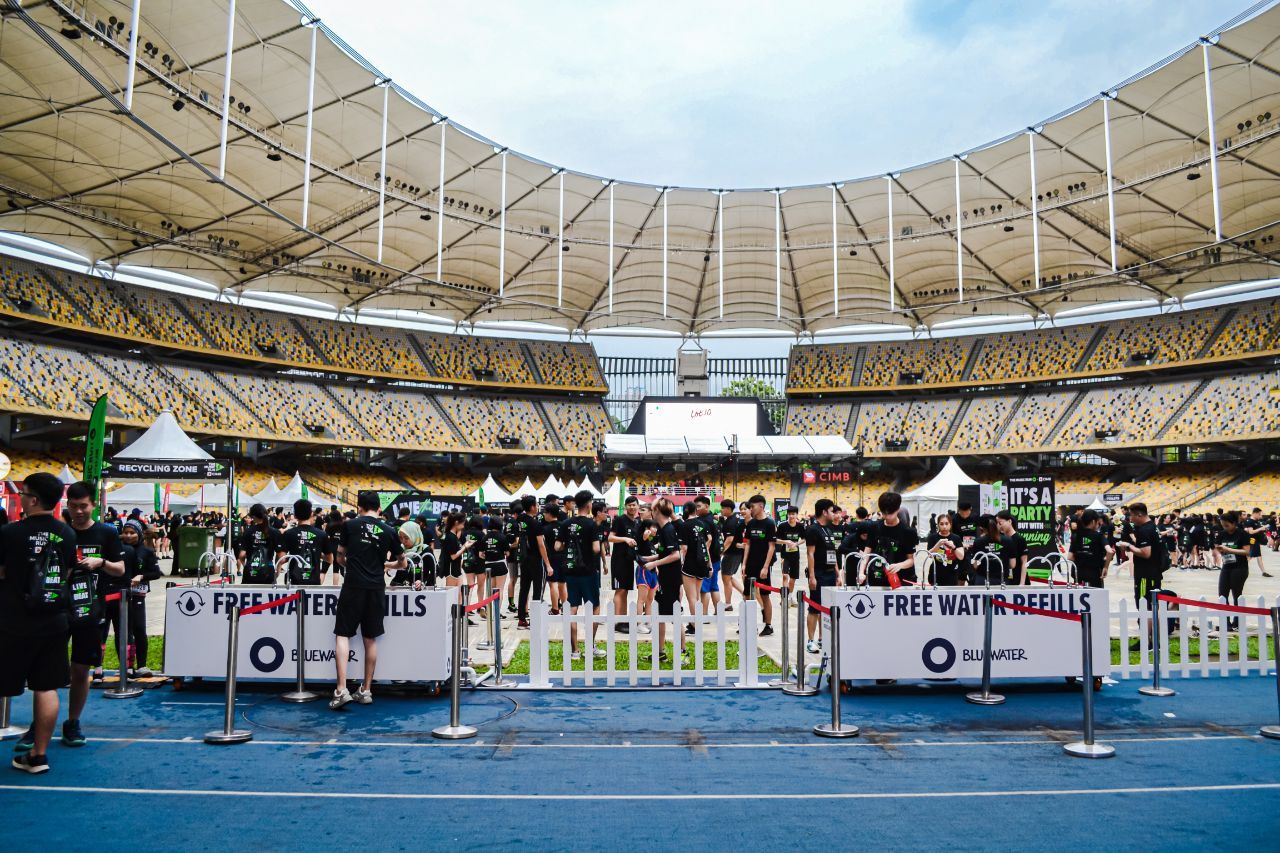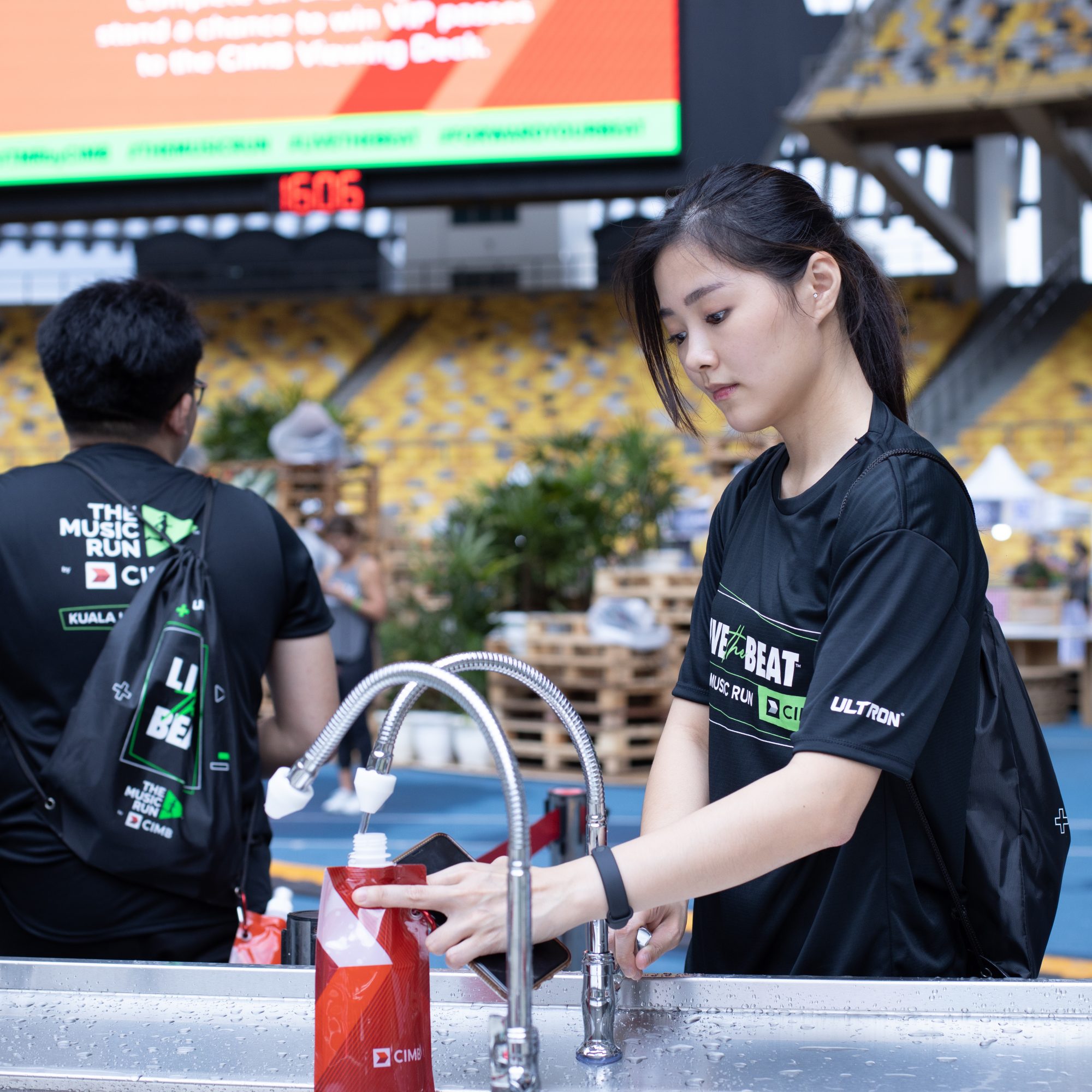 REVOLUTIONARY WATER
DISTRIBUTION SOLUTION ERADICATING THE NEED FOR SINGLE-USE PLASTIC WATER BOTTLES
We work with Visionary Solutions using proprietary technology by Bluewater of Sweden, one of the world's most innovative clean water technology companies, to provide runners access to safe, clean, 100% purified drinking water at refill stations throughout the event. With CIMB providing all participants with a reusable water bottle in their Run Pack to be used at the event, we stopped 80,000 plastic bottles from potentially entering landfills or our oceans. We didn't stop there and also eliminated an additional 40,000 pieces of single-use plastic wrapping from event items such as t-shirts and medals. 
How can you help at the next event? Make sure you fill up and bring along your CIMB reusable water bottle to the event. Look out for the Bluewater water refill stations and stay hydrated as you run, dance and party!
REDUCE, REUSE, RECYCLE
We're serious about making The Music Run by CIMB the most fun and sustainable event possible. Our vision is to reduce, reuse and recycle waste wherever we can and we partner with some of Malaysia's most innovative Eco-Warriors to help us. All recycling at the event is handled by industry experts, iCYCLE, with dedicated recycling bins dotted across the venue. All compostable food waste is collected in the Food Village and taken to Ground Control's composting facility. This nutrient-rich compost is then used by our friends at the Free Tree Society to plant trees at local schools. How about leftover 'clean' food that is not sold or used? The Lost Food Project redistribute this surplus nutritious food to those who need it most. Even our famous 'rock hand' giveaways have had a makeover courtesy of Paperway with unique recycled cardboard replacing the traditional foam. 
What can you do at the next event? Buy and consume only what you need and ensure you dispose of all items in the specially marked bins located throughout the event.